A Room With A View // E.M. Forster // WONDERFUL
1908 // Novel
FIRST LINE
'The Signora had no business to do it,' said Miss Bartlett, 'no business at all.'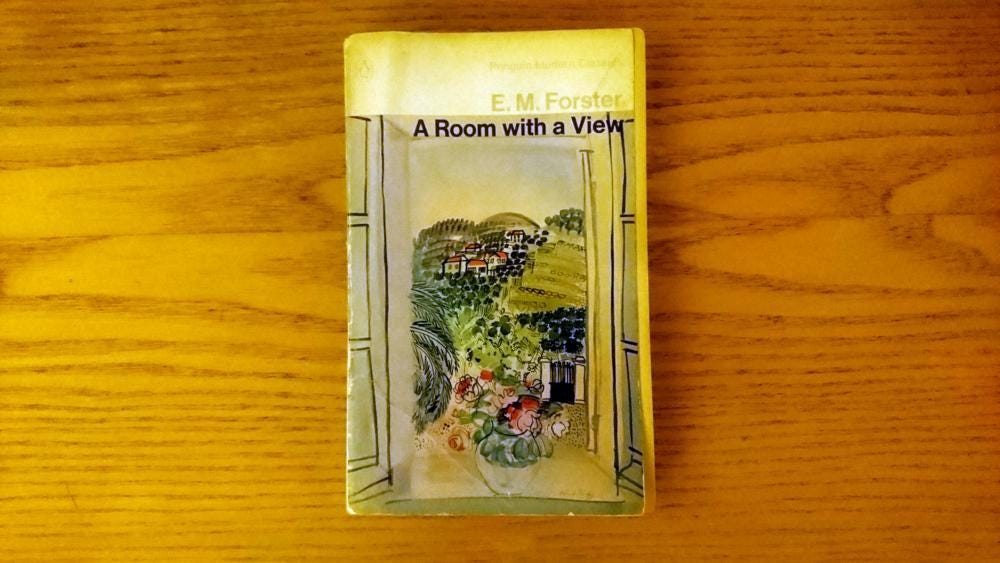 FROM THE BLURB
Forster is concerned with the 'undeveloped heart' of the upper middle classes in this brilliant piece of social comedy … The English abroad are observed with a shrewd twinkle, but in the young and unaffected figure of Lucy Honeychurch the author beings to develop his attitude to the changing social values of the beginning of this century.
FIVE EXCERPTS
#1: The pernicious charm of Italy
Then the pernicious charm of Italy worked on her, and, instead of acquiring information, she began to be happy.
#2: Too much Beethoven
'If Miss Honeychurch ever takes to live as she plays, it will be very exciting – both for us and for her.'
'She oughtn't really to go at all,' said Mr Beebe, as they watched her from the window, 'and she knows it. I put it down to too much Beethoven.'
#3: Driven by lovers
'Leave them alone,' Mr Emerson begged the chaplain, of whom he stood in no awe. 'Do we find happiness so often that we should turn it off the box when it happens to sit there? To be driven by lovers – A king might envy us, and if we part them it's more like sacrilege than anything I know.'
#4: The most intimate conversation they had ever had
'Emerson the name was, not Harris.'
'What name?'
'The old man's.'
'What old man?'
'That old man I told you about. The one Mr Eager was so unkind to.'
He could not have know that this was the most intimate conversation they had ever had.
#5 Beware of muddle
'Take an old man's word: there's nothing worse than a muddle in all the world. It is easy to face death and Fate, and the things that sound so dreadful. It is on my muddles that I look back with horror – on the things that I might have avoided. … I used to think I could teach young people the whole of life, but I know better now, and all my teaching of George has come down to this: beware of muddle.'
FURTHER READING
A Passage to India by E.M. Forster (1924)
END MATTER
217 pages ~66,000 words
Read: 25 November to 9 December 2019 (15 days)